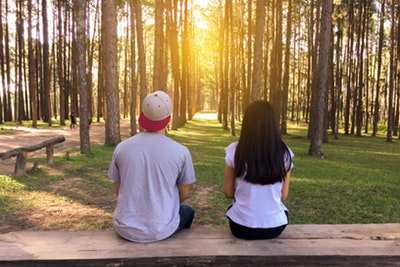 The beginning of a romantic relationship usually comes with a period of bliss. There may be grand romantic gestures as you continue to build this exciting relationship with one another, and it may feel as if you're the only two people in the world. While the start of a romance often leaves both partners ecstatic, relationships are typically put to the test at some point. One of the biggest tests of a relationship can come in the form of an unexpected pregnancy. This can bring about lots of questions including what a pregnancy might mean for you and your partner, and what you should do next. It's understandable that you may feel there are no easy answers to your situation, but there is help available if you are pregnant in a new relationship.
Are you and your partner just starting out and are now facing an unexpected pregnancy? With six locations located throughout DuPage County, Avenue Women's Center offers clients a nonjudgmental environment to receive care and support. Our client advocates can meet with you and your partner to listen to any concerns, and provide information on your three pregnancy options: abortion, adoption, and parenting. Contact us to schedule a free consultation and take the next step in your pregnancy decision today!
Adjusting to an Unexpected Pregnancy in a New Relationship
An unexpected pregnancy can be life-changing for you and your partner. While the revelation can be difficult for a couple whose relationship has only just begun, it doesn't necessarily have to be bad news. Both of you may want to take time to process your emotions, perhaps discussing your feelings with the help of a trusted third party. Understandably, there may be fear and confusion, but an unexpected pregnancy does not have to mark the end of your relationship.
Assessing the Future of Your Relationship
Many couples may use this as a time to assess the future of their relationship. Do you choose to navigate the situation together as a couple or is it preferable to break off the relationship and strike out on your own? While the pace of your relationship may be moving faster than expected, this can be an opportunity for some couples to commit to each other as they discuss pregnancy options. While an unexpected pregnancy can lead to good outcomes for you both, for some other couples, it may be true that the responsibility came on too quickly and they choose to go their separate ways.
Accessing Available Resources in an Unexpected Pregnancy
Instead of trying to handle the situation alone, it may be helpful to seek advice from a trained professional. There are resources with staff who have assisted people in your shoes before, and can offer you information about your pregnancy options. It may seem overwhelming, but healthcare providers, adoption counselors, and pregnancy consultants can ease your anxieties and help with crafting a plan that will work for you both.
If you're facing an unexpected pregnancy in a new relationship, you can learn more about the options available to you through a free pregnancy consultation at Avenue Women's Center. Our services are confidential, and we offer clients support as they begin to take their first steps towards a pregnancy decision. We provide limited ultrasounds that can supply you with relevant information about your pregnancy and assist with your choice. A pregnancy consultant can also meet with you and your partner, taking the time to understand your situation and address your unique concerns. Schedule an appointment today!
The information provided here is general in nature.  It is not a substitute for a consultation with a medical professional. Before any medical procedure, it is imperative that you discuss your personal medical history, risks, and concerns with your doctor. If you have questions during or after a procedure, your doctor should be immediately contacted. Avenue Women's Center is not an emergency center.  If you are experiencing severe symptoms, such as bleeding and/or pain, seek immediate medical attention.  Contact your physician, go to an emergency room, or call 911.