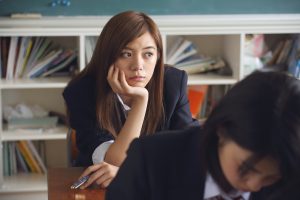 This fall, are you taking advantage of a scholarship that was awarded to you?  If so, congratulations!  That's a huge achievement- one that you've probably worked very hard to earn!  Chances are, you're feeling proud and excited about what the future holds.  But what if you've recently discovered that you're unexpectedly pregnant, and you're scared that this shocking new reality will end up disrupting your academic plans?  Maybe you're afraid that continuing this pregnancy or choosing to parent would lead to the loss of your scholarship.  Take heart!  In the United States, laws exist to protect students facing circumstances like yours.  And you don't have to navigate the future (regarding this pregnancy or your college experience) on your own.
Avenue Women's Center exists to be a part of your support system while you figure out your next steps and pursue your own best outcome.  Since 1981, we've been providing free early pregnancy support to persons from our own Chicagoland community and beyond.  We have an enduring track record of meeting individuals, couples, and families with empathy and professionalism.
Learn more about our no-cost, confidential first-step pregnancy services!
You've Worked Hard for This!
Women coping with an unexpected pregnancy may dread losing a scholarship for various reasons.  Perhaps you're worried about possible discriminatory practices at the school you're planning to attend.  Or, you're nervous that continuing this pregnancy or becoming a parent would prevent you from meeting the expectations that your scholarship hinges upon.  If thoughts like these are running through your head, causing alarm and confusion, that's understandable.  You've likely exerted a lot of effort into developing your skills and applying for this opportunity.  Passing up a scholarship would be a very hard sacrifice to make.  Thankfully, if you live in the U.S., it may not be a sacrifice you have to make, even if you're considering your option of parenting.
Understanding Title IX: It's Safeguards
The U.S. Department of Education Office for Civil Rights (OCR) defines Title IX as, "a Federal civil rights law that prohibits discrimination on the basis of sex—including pregnancy and parental status—in educational programs and activities." According to its website, "All public and private schools, school districts, colleges, and universities receiving any Federal funds ("schools") must comply with Title IX" (OCR).  Title IX includes the following protections, among others:
A school must allow a student to continue participating in classes and activities regardless of pregnancy status (OCR).
A school must excuse absences related to pregnancy or childbirth, and allow the student, "to return to the same academic or extracurricular status" (OCR).
A school must protect a student from harassment based on sex (including harassment due to pregnancy), and establish policies and procedures to protect students from sex discrimination (OCR).
Understanding Title IX: It's Nuances
Title IX was first signed into law in 1972.  It has evolved since then, "as the courts, Congress and presidential administrations have periodically clarified its meaning and broadened and, at times, constrained its scope" (The Washington Post).  According to the Washington Post, Title IX has not necessarily been enforced in a uniform manner, although it has led to significant growth in women's school participation- specifically in the area of athletics.
Though it was established to protect students from sex-based discrimination and has been largely successful, Title IX contains nuances.  It would be wise to speak with the Title IX Coordinator at your school if you're pregnant and afraid of losing your scholarship.  Every educational institution that's subject to Title IX is required to have a staff member assigned to this role (OCR).  Meeting with the Title IX Coordinator could be a valuable opportunity to discover how your school can support you on your pregnancy journey, whatever path you choose.  Make sure you know your rights and fully understand your options (educational and otherwise) before making a final pregnancy decision.
Your concerns about your scholarship and your academic future are valid.  But they don't necessarily have to factor into your pregnancy decision-making process.  Legal protections may already be in place, which could save you from having to make an anxiety-driven choice.  Avenue Women's Center is an early pregnancy clinic that's seeking to help persons make fully informed pregnancy decisions one connection at a time.  We're here to provide accurate, non-biased information and caring support, so you feel empowered to press on into a bright future.
Contact us to schedule an appointment today!  We're available to help you gain insight into your pregnancy, your options, and your resources.
_______________
References:
The information provided here is general in nature.  It is not a substitute for a consultation with a medical professional. Before any medical procedure, it is imperative that you discuss your personal medical history, risks, and concerns with your doctor. If you have questions during or after a procedure, your doctor should be immediately contacted. Avenue Women's Center is not an emergency center.  If you are experiencing severe symptoms, such as bleeding and/or pain, seek immediate medical attention.  Contact your physician, go to an emergency room, or call 911.