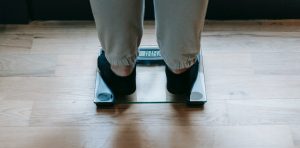 What's more frustrating than pursuing a goal, only to discover that the pains you've taken may be reversed by unexpected circumstances?  Perhaps you've invested time, energy, and resources into getting in physical shape.  You may have tried a challenging diet or exercise regimen, or sought cosmetic surgery, to take ownership of your health and feel more confident.  A commitment like that often requires discipline and determination- both admirable qualities!  But what if you've discovered that you're unexpectedly pregnant, and now you're worried about the physical alterations that pregnancy could cause?
A developing pregnancy can trigger noticeable changes in the body- such as abdominal swelling- that may threaten to "undo" a woman's prior efforts to get in shape.  If you're experiencing an unexpected pregnancy, you may feel like this looming possibility is adding insult to injury. Maybe you're thinking to yourself, "My situation is stressful enough.  And now, if I continue this pregnancy, I may lose the ground I've gained toward my fitness goals on top of everything else that I'm dealing with."  Our caring team at Avenue Women's Center is available to meet you in that difficult space.  We're in your corner, no matter where your journey leads!
Learn more about Avenue!  We're a first-step pregnancy clinic with six locations in Chicagoland.  Since 1981, we've been empowering individuals with the reliable information and support they need to discover a positive outcome.
What Physical Changes Can a Pregnancy Cause?
Here are a few common pregnancy symptoms that may be particularly overwhelming to someone who's worked hard to slim down or maintain a certain look.  Consider speaking with a medical professional to learn more about how a pregnancy may impact your one-of-a-kind body.
Swelling. A little swelling can develop in the face, hands, or ankles during pregnancy.   Certain steps can be taken to manage this, liking drinking fluids and cutting out caffeine and salty foods (OASH).  Consider speaking with a medical professional about effective ways to deal with swelling.
Stretch marks. As a woman's skin stretches to accommodate a growing pregnancy, she may notice red, pink, or brown streaks on areas like the abdomen, breasts, thighs, or butt. Stretch marks and other skin changes usually diminish post-birth (OASH).
Weight gain. Weight gain during pregnancy is normal, and (to a certain extent) healthy. Because every situation is unique, it's important to speak with a medical professional to determine how much weight gain may be appropriate in your case.  The pregnancy itself will account for the added pounds, and some of the extra weight will go to parts of the woman's body (larger breasts, increased blood volume, organs supporting the pregnancy [placenta, amniotic fluid, larger uterus], etc.).  Maintaining a healthy diet during pregnancy can equip someone to have an easier time losing weight post-birth (Mayo Clinic).
Adjusting to Physical Changes
Here are a few tips that may help you adjust to any physical changes caused by pregnancy, however far along you may be, and whichever pregnancy option you may be leaning toward.
If your pregnancy and its potential impacts are a source of frustration to you, it's good to acknowledge that. Your feelings are valid and understandable!  But ruminating on these thoughts and emotions isn't in your best interest.  As challenging as this may be, try to accept your circumstances for what they are.  Make an action plan, so you can take ownership of your path forward.  This may help you feel less like an unwilling passenger, and more like someone who's in the driver's seat.
Learn what you can! A first-step pregnancy center like Avenue can help you access information about the pregnancy, like 1) where it's located, 2) its gestational age, and 3) the possibility of miscarriage, through an ultrasound scan.  Avenue is committed to providing accurate information on all pregnancy options (abortion, adoption, and parenting).  Consider speaking with a doctor too.  If you decide to carry to term, a qualified medical professional can provide guidance on fitness practices that may or may not be appropriate to continue during pregnancy.  He or she may also offer tips to help you manage a healthy weight for now, and shed pounds with greater ease when it's the right time.  Remember that these physical changes brought on by pregnancy may be short-lived!
When it comes to the pregnancy decision-making process, keep a well-rounded perspective. Consider all the factors that are a part of your choice for abortion, adoption, or parenting.  Maintaining physical fitness may be one important component when considering your best path.  But there are many other things to account for, such as the status of the pregnancy (How much has it developed and is it likely to continue on its own?), the resources available in your community, and the influence of your values, beliefs, and instincts.
Physical changes resulting from pregnancy are part of a very natural process.  Perhaps it's just a process that you didn't want to go through at this stage of your life, or ever.  It's okay to acknowledge that!  Our compassionate, non-judgmental staff at Avenue Women's Center understands how frustrating this can be.  We've partnered with many women over the past 40 years who've expressed similar concerns.  We're here to be a part of your emotional and practical support network!
Call, text, chat, or email to schedule a visit!  Our free early pregnancy services are available to equip you for an informed pregnancy decision.
_______________ 
References:
Reviewed by Patricia Kuenzi, APN-CNP, MSN, ANP, PNP.
The information provided here is general in nature.  It is not a substitute for a consultation with a medical professional. Before any medical procedure, it is imperative that you discuss your personal medical history, risks, and concerns with your doctor. If you have questions during or after a procedure, your doctor should be immediately contacted. Avenue Women's Center is not an emergency center.  If you are experiencing severe symptoms, such as bleeding and/or pain, seek immediate medical attention.  Contact your physician, go to an emergency room, or call 911.