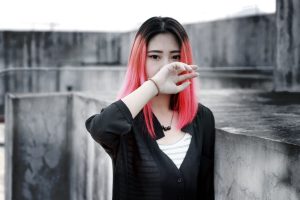 If you've recently discovered that you're unexpectedly pregnant by your ex, you may be feeling scared and overwhelmed beyond description.  Maybe the sex that resulted in this pregnancy happened before your breakup.  Maybe it happened years later.  Either way, these unpredictable circumstances are probably adding complexity to a situation that you didn't think could get any more complicated.  This may ring especially true if you and your ex-husband have kids together, or if either of you is in a new romantic relationship.  You may have a lot on your plate.  But you're not alone!  It's possible to discover the support that you need and embrace your best pregnancy outcome despite the obstacles that you're facing.
Avenue Women's Center exists to inform and empower individuals who find themselves grappling with circumstances like yours.  Since 1981, we've been providing free early pregnancy support to persons in the western Chicago metro area and beyond.  We understand that there are often many complicated factors involved with an unexpected pregnancy, but we believe that every person is fully capable of identifying her best way forward.  We're here to offer reliable information and a compassionate listening ear, to aid you in this process.
Learn more about our no-cost, confidential first-step pregnancy services!
"It's Complicated"
Love, attraction, sex, intimacy, romance, relationships, breakups… all of these can be incredibly complex and challenging to navigate, even when an unexpected pregnancy isn't a part of the equation.  Strong feelings that two ex-partners share don't always fade when their marriage comes to an end.  Sometimes, those emotional bonds survive a divorce… remaining as profound as ever, or maybe growing even deeper.  Perhaps you and your ex-husband have a rich history together.  You've probably been each other's "person" through some very difficult seasons of life.  Without a doubt, this can leave a long-lasting impression, even if there's been a lot of hurt inflicted along the way.
Asking the Right Questions
So, situations like yours may be more common than you realize.  But this doesn't necessarily make becoming pregnant by an ex-husband any easier to manage.  Chances are, questions like these are running through your mind on repeat…
Should I tell my ex about the pregnancy?  Should I tell my current partner?  What pregnancy decision should I make?  Should I invite anyone else to be a part of my decision-making process?  What if I do, and this person disagrees with my leanings? What will my loved ones think?  If I share my pregnancy news with my ex, how will our current situation as a divorced couple influence the way we navigate this pregnancy together?
You're probably wrestling with many other "if" and "should" questions today.  It's important to consider any pregnancy decision with care, so processing these may be necessary.  However, there are other questions you can ask about this pregnancy, which will likely come with more tangible answers.  Our early pregnancy services at Avenue Women's Center are designed to help you learn where you stand with this pregnancy (where it's located, how far along you are, etc.) so you can know what's going on inside your body and can take your next steps accordingly.  We also provide accurate information on all your pregnancy options (abortion, adoption, and parenting) and all your available resources.
Your circumstances may include many layers of complexity.  After all, physical attraction and emotional intimacy are profound parts of the human experience.  They don't necessarily go away with the signing of legal paperwork, or even with a long history of conflict.  But no matter where your journey leads, or how you choose to navigate this with your ex-husband, it's really important to seek caring support you can count on.  Avenue Women's Center can provide that for you, whether you already have a thriving support system or not.
Call, text, chat, or email to speak with an expert staff member!  We're here for you!
The information provided here is general in nature.  It is not a substitute for a consultation with a medical professional. Before any medical procedure, it is imperative that you discuss your personal medical history, risks, and concerns with your doctor. If you have questions during or after a procedure, your doctor should be immediately contacted. Avenue Women's Center is not an emergency center.  If you are experiencing severe symptoms, such as bleeding and/or pain, seek immediate medical attention.  Contact your physician, go to an emergency room, or call 911.