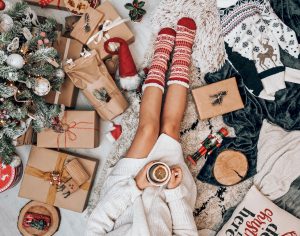 Have you ever noticed how differently people experience the holidays?  Maybe, for you, these last weeks of the year between Thanksgiving and the New Year are festive and joyful.  Perhaps you're dealing with a busy schedule and a lot of stress.  Or, you may be wrestling with grief and loneliness this time of year.  You may be coping with all these feelings at once!  For many women, an unexpected pregnancy experience can be tense, exhausting, inconvenient, and full of mixed emotions.  Sometimes, so can the holiday season!  So, if you're facing an unexpected pregnancy during the holidays, life may be feeling especially complicated right now.
Avenue Women's Center can help!  For over forty years, we've been navigating the challenges of an unexpected pregnancy alongside women in every season of life!  It's our mission to meet your needs during this pregnancy and beyond.  So, we offer free early pregnancy services, help with resources, and compassionate support to every woman who walks through our doors or connects with us virtually.
Call, text, email, or chat today to schedule an appointment at one of our six limited medical clinics!
Caring Support to Help You Thrive
Most of us need extra support to thrive as the holiday season unfolds, even under normal circumstances.  If you're facing an unexpected pregnancy in the middle of the holidays, a strong support system is going to be critical.  You may (or may not) be spending more time with family this time of year.  However, it's common for women in situations like yours to feel alone, even when surrounded by loved ones.  This may be especially true for women whose families aren't aware or supportive of the pregnancy.  Consider sharing your journey with a trusted family member, counselor, faith leader, or pregnancy consultant.  Perhaps someone else can provide the encouragement and perspective you need to realize the support that's available.  For many women, that's key to embracing their own best pregnancy decision!
The Value of Early Pregnancy Services
It can be incredibly helpful to receive free, first-step services from a caring team that values your health and well-being.  At Avenue Women's Center, we understand how challenging an unexpected pregnancy can be (regardless of the outcome).  We also recognize your need for reliable and timely answers, although your schedule may be packed.  That's why we provide easy-to-access early pregnancy services (like medical-grade pregnancy tests, limited medical ultrasounds, and pregnancy consultations) at no cost!  Our caring and knowledgeable team is committed to helping you learn about this pregnancy and understand your options.  Appointments are often available same-day.  Walk-ins are welcome too!
Perhaps you find comfort in a hot mug of coffee or a cozy sweater as autumn transitions into winter.  So too can compassionate, supportive services offer warmth through the most challenging seasons of life.  Our expert team at Avenue Women's Center is here to be your "mug of coffee" during the holidays and beyond.  You'll make it through this season, just as you have every other.  But chances are, you'll look back on this time with greater confidence in the choices you've made if you surround yourself with caring support and helpful resources.
Are you feeling isolated?  Are you afraid or unable to share your pregnancy experience with someone trustworthy, or simply needing to strengthen your existing support system?  Reach out to Avenue!  Learn how we can provide immediate assistance and ongoing support. 
The information provided here is general in nature.  It is not a substitute for a consultation with a medical professional. Before any medical procedure, it is imperative that you discuss your personal medical history, risks, and concerns with your doctor. If you have questions during or after a procedure, your doctor should be immediately contacted. Avenue Women's Center is not an emergency center.  If you are experiencing severe symptoms, such as bleeding and/or pain, seek immediate medical attention.  Contact your physician, go to an emergency room, or call 911.