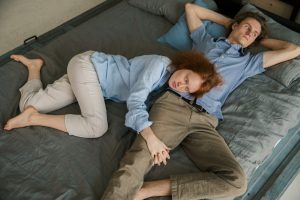 Symbols of love and romance are especially prevalent in American culture this time of year.  Maybe your school is sponsoring a Valentine's Day fundraiser or your friends are sharing their February fourteenth plans.  Many of us have complicated feelings about Valentine's Day.  For you, this may be a reason to celebrate, a day like any other, a trigger for feelings of loneliness, or a combination of all three.  But you've probably encountered Valentine's Day in some form no matter what's going on in your life or what kind of head space you're in this February.
Perhaps you're experiencing Valentine's Day with a partner while coping with an unexpected pregnancy this year.  As you've probably observed in life, stressful circumstances can sometimes cause emotional disconnect within meaningful relationships.  An unexpected pregnancy may be a particularly difficult situation to navigate during a season that places so much cultural emphasis on love and romance.
Maybe you and your partner are struggling to face an unexpected pregnancy together.  Or, he doesn't know about the pregnancy yet, which is causing you to feel especially scared and isolated.  You're not alone!  A first-step pregnancy clinic like Avenue Women's Center can help.  We provide limited medical services to individuals and couples facing circumstances like yours, at no cost!
Discover our confidential services!
Valentine's Day: A Brief History
According to History.com, the origins of Valentine's Day are unclear.  We know that romance has been celebrated during the month of February throughout history.  Modern-day St. Valentine's Day appears to have developed partly from Christian and ancient Roman influences.  It seems there was a person (or persons) called St. Valentine.  According to one legend, a priest called Valentine performed marriage ceremonies after the Roman emperor Claudius II made it illegal for young men to wed.  There have been other tales explaining the origins of St. Valentine over the centuries, and we can't know for sure what's fact and what's fiction.  But we do understand St. Valentine to be a heroic, courageous, and romantic character.
What's Valentine's Day About, and How Does it Relate to My Situation?
It's hard to say exactly what Valentine's Day is about, because the celebration of this holiday has emerged from different legends and cultural traditions.  Some may view February fourteenth as a celebration of love.  But society seems to focus mainly on romantic love this time of year.  If you've been through lonely times in life (as most of us have), and you're planning to celebrate this Valentine's Day with a partner, it's natural to have positive expectations.  Everyone wants to feel fully understood and loved.  But we're not always good at meeting those needs for one another through the relationships and institutions we build.  That's probably true in your life whether you're facing an unexpected pregnancy or not.  It's natural to become cynical when people let us down and circumstances take unexpected turns.  Most of us hope for a romantic Valentine's Day with fresh flowers and beautiful words, and that isn't always what we get.  But as great as romantic gestures may feel, and as important as your relationship with your partner may be, your bond with him doesn't have to be the only source of confidence and love in your life this Valentine's Day and beyond.
You've Got This!
Avenue Women's Center is here to partner with you no matter what challenges you and your partner face together, or which pregnancy option you choose.  Navigating romance during an unexpected pregnancy can be an emotionally painful experience.  But we're ready to provide the caring support you need to continue this journey one step at a time.  Avenue offers helpful services like free pregnancy tests, options consultations, and more.  But perhaps more importantly, we offer a safe space to process your circumstances alongside a compassionate team of professionals.  We believe a healthy support system is key to navigating an unexpected pregnancy with confidence.  You're a strong, resilient person who's capable of meeting this challenge head-on.  You've got this!
Avenue Women's Center has been serving women and couples for over forty years!  We've come alongside countless individuals, and we can help you cope with this challenging season of life too.
Call, text, chat, or email to schedule an appointment today!
 _______________
Reference:
HISTORY.  (2023, February).  History of Valentine's Day.  Retrieved from: https://www.history.com/topics/valentines-day/history-of-valentines-day-2
The information provided here is general in nature.  It is not a substitute for a consultation with a medical professional. Before any medical procedure, it is imperative that you discuss your personal medical history, risks, and concerns with your doctor. If you have questions during or after a procedure, your doctor should be immediately contacted. Avenue Women's Center is not an emergency center.  If you are experiencing severe symptoms, such as bleeding and/or pain, seek immediate medical attention.  Contact your physician, go to an emergency room, or call 911.