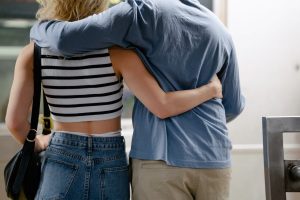 Are you and your spouse unexpectedly pregnant after choosing not to have kids?  Maybe this decision-making process was challenging and included some conflict and sleepless nights.  Or, perhaps both of you felt confident from the beginning of your relationship that children wouldn't be a part of your future.  Financial challenges, lifestyle choices, family medical history, or several other factors may have led to this conclusion.  Now, an unexpected pregnancy has completely disrupted your plans.  The two of you are left staring at one another in disbelief, anxiously wondering, "What do we do now?"
Avenue Women's Center has been a trusted resource to women and couples facing circumstances like yours for over forty years!  We're a first-step limited medical clinic offering free early pregnancy services, including medical-grade pregnancy tests, limited medical ultrasounds, options consultations, and more.  Empowering you to make a well-informed pregnancy decision is our mission.
Check out our website to learn more!
You've Got This
Making significant life decisions with a spouse is no easy task!  Often, some level of compromise is required of one or both individuals to maintain harmony in the relationship.  Maybe you and your husband haven't always agreed on whether or not to grow your family.  Through hard conversations (and probably a lot of forgiveness), an understanding was eventually reached.  Kudos to you and your spouse if this has been your story!  Arriving at an important decision together is a major accomplishment.  But maybe it seems like all that hard work of figuring this out was wasted because this unexpected pregnancy has changed everything.  On the contrary, the challenges you and your husband have faced together have likely given you strength and resilience, both as individuals and as a couple.  You've coped with tough circumstances before.  A challenging decision can be tackled again, one step at a time.
You Have Options
You and your spouse have three options: abortion, adoption, and parenting.  Chances are, you have time to explore each of these possibilities together before your options become limited.  Every avenue comes with potential challenges.  Maybe the mention of these three words is triggering anxiety, each word for a different reason.  That's where Avenue Women's Center comes in.  We provide options consultation to help women and couples understand every possible path forward, including all the steps involved.  If you're looking for a safe space to ask your questions (even the hardest ones) and receive caring, nonjudgmental, and accurate answers, Avenue Women's Center is here for you.
You Have Resources
Avenue provides free first-step pregnancy services that may shed some light on your pregnancy decision.  For example, we offer no-cost limited medical ultrasounds to learn more about 1) how far along you are (this may determine which pregnancy options you're eligible for), and 2) early pregnancy risks (including the possibility of miscarriage).   About one in five or six pregnancies ends naturally in miscarriage, and the probability of this increases with age.  Regardless of your pregnancy decision, our caring staff can help you connect with a wide variety of additional resources to meet your physical, financial, emotional, and social needs.  For some couples, accessing the right resources offers the freedom to embrace their best pregnancy outcome.
You Have Support
Our expert team of professionals at Avenue genuinely care about you and your spouse.  Our commitment to maintaining contact throughout your pregnancy journey (if you'd like us to) sets us apart.  We're here to help you strengthen other aspects of your support system too, like your relationships with family members as you navigate this pregnancy alongside them.
At Avenue, it's our sincere desire to help you navigate these challenging, unexpected circumstances with courage.  The path you and your husband are on may have veered in a direction that neither of you hoped for.  But you and he can walk this road together, alongside a supportive team.
Schedule an appointment today at one of Avenue's six limited medical clinics in Chicagoland, Illinois!
The information provided here is general in nature.  It is not a substitute for a consultation with a medical professional. Before any medical procedure, it is imperative that you discuss your personal medical history, risks, and concerns with your doctor. If you have questions during or after a procedure, your doctor should be immediately contacted. Avenue Women's Center is not an emergency center.  If you are experiencing severe symptoms, such as bleeding and/or pain, seek immediate medical attention.  Contact your physician, go to an emergency room, or call 911.