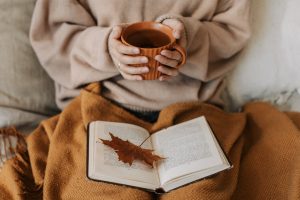 The Thanksgiving holiday is a tradition that's all about counting your blessings.  This has often been instilled in us since childhood.  So, why is it so hard to fully embrace the spirit of Thanksgiving on the fourth Thursday of November (or any other day of the year)?  Maybe you're not feeling thankful this Thanksgiving because you're facing particularly challenging circumstances.  Maybe you're coping with an unexpected pregnancy.  Be encouraged that learning to cultivate gratitude is possible, no matter what's going on around you.
Does the title of this blog describe your outlook as the holidays approach?  Feeling thankful in the middle of stressful circumstances doesn't come naturally!  However, by shifting your perspective a bit, you can develop a renewed mindset.  This will probably help you on your pregnancy journey too.  Our compassionate and knowledgeable team at Avenue Women's Center is here to support you every step of the way.  We're an early pregnancy center dedicated to helping women access the tools and resources they need to cope with an unexpected pregnancy and discover their own best outcome.
Learn more about our free first-step pregnancy services!
Cultivating Gratitude
Even when times are great, nurturing an attitude of thankfulness requires some focus.  Remember that you don't necessarily have to feel thankful to begin practicing thankfulness.  Sometimes, intentional thoughts lead to more positive emotions and a healthier state of mind.  Consider making a list of things you're thankful for, big and small.  Maybe you're grateful for a trusting relationship with a family member, a recent achievement, or even a glimpse of blue sky on your drive to work.  Once you've identified some areas of gratitude, voicing your thoughts can be powerful too.  Is your mom hosting Thanksgiving this year?  Thank her for all the hard work and mental energy she's contributing.  Doing this will probably warm her heart (and yours), while reinforcing the bond you share.  Encouragement and appreciation strengthen relationships, and strong relationships may play a really supportive role as you navigate this pregnancy.
Remembering "The First Thanksgiving"
You've probably heard the origin story of Thanksgiving a million times, but this wouldn't be a Thanksgiving blog without bringing it up!  The tradition of gathering for a harvest feast to express gratitude has existed for centuries, across different cultures.  Here in the U.S., we think of "the first Thanksgiving" as a celebration shared between colonists (Pilgrims) and Native Americans in 1621.  The Pilgrims were giving thanks for their first successful corn harvest after the Native American Squanto taught them how to cultivate the land.  But it's important to note that they'd suffered terribly leading up to this.  A harsh winter had previously caused about half the Pilgrims to die.  The key takeaway here is that gratitude comes out of blessing and pain.  It's possible to recognize the good things in life, and nurture a thankful mindset, even when you've been through some really hard times.
The Power of Connection
Many women find it helpful to confide in a trustworthy friend, family member, mentor, or faith leader during an unexpected pregnancy.  Our caring pregnancy consultants at Avenue Women's Center are available to connect with you too!  It's easy to develop an ungrateful outlook when you're alone with your thoughts, and those thoughts are focused on the challenges surrounding you.  Connecting with someone encouraging may help you process your feelings more effectively while receiving support and a fresh perspective.
This Thanksgiving, if you find that your focus is drifting in a negative direction from time to time, that's only natural.  But it may be helpful to redirect those thoughts or process them alongside someone supportive.  Our dedicated team at Avenue Women's Center is here to help you navigate this unexpected pregnancy with courage and confidence. 
Call, text, chat, or email to schedule a pregnancy consultation today, and receive free services like a lab-quality pregnancy test!
_______________ 
Reference:
History (A&E Television Networks).  (2022, November).  Thanksgiving 2022.  Retrieved from: https://www.history.com/topics/thanksgiving/history-of-thanksgiving
The information provided here is general in nature.  It is not a substitute for a consultation with a medical professional. Before any medical procedure, it is imperative that you discuss your personal medical history, risks, and concerns with your doctor. If you have questions during or after a procedure, your doctor should be immediately contacted. Avenue Women's Center is not an emergency center.  If you are experiencing severe symptoms, such as bleeding and/or pain, seek immediate medical attention.  Contact your physician, go to an emergency room, or call 911.