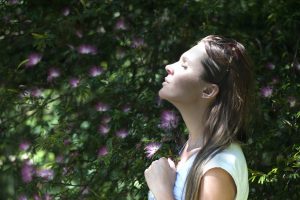 Most people have heard of mindfulness, listened to a "talk" on the subject, or tried putting it into practice.  But what does this buzzword (…or clinical term?) actually mean?  The American Psychological Association (APA) defines mindfulness as an "awareness of one's internal states and surroundings."  It involves learning to perceive one's "thoughts, emotions, and other present-moment experiences without judging or reacting to them."  Taking on this mental/emotional/physical posture can be highly effective for managing stress and anxiety.  A huge benefit of mindfulness is that it can be applied anytime, anywhere- at no cost!  But summer tends to be an especially conducive season to practice it… at least, here in the Midwest, where pleasant conditions like sunshine and mild temps aren't always readily available!
An unexpected pregnancy may be one of the most stressful dilemmas a woman can experience.  Are you facing this challenging set of circumstances today?  If so, Avenue Women's Center has your back.  We offer no-cost early pregnancy services, like medical-grade pregnancy tests and options consultations, to help you move toward a confident, informed pregnancy decision.  Supporting your well-being (physical, mental, and emotional) is our very highest priority.
Call, text, chat, or email to speak with an expert staff member and schedule an appointment! We're here to equip you with the tools you need to navigate an unexpected pregnancy.
Entering a State of Mindfulness
Mindfulness involves "grounding" oneself in the present moment.  You probably know through personal experience how overwhelming an unexpected pregnancy can be.  Maybe your head is spinning with anxious thoughts this very instant.  "Grounding" yourself would mean re-gaining control of your attention and purposefully entering into a calmer state by tuning into the present.  Here are some simple steps to help you engage in this process:
Relax and unwind.  Find a comfortable position to begin your mindfulness exercise.  Choose a calm, private, distraction-free environment.
Breathe.  Breathe deeply and fully, exhaling completely.
Focus on the senses. Engage your five senses (hearing, smell, sight, taste, and touch).
"How Can I Practice Mindfulness by Tuning into My Senses This Summer?"
Summer is a natural time to focus on the senses because this season offers so many sensory opportunities to savor!  Let's brainstorm some fresh ways to practice mindfulness through the powers of hearing, smell, sight, taste, and touch as we bask in the warm days ahead.
Hearing
What are your favorite summertime sounds?  Maybe you love the music of crickets chirping on a summer evening, or the distant hum of a community sporting event.  Maybe you enjoy relaxing in a backyard or park, listening to the soft rustling of leaves as a breeze passes by.
Smell
What do you love to smell when the weather is mild and the sun is shining?  Maybe something delicious, like burgers roasting on a grill or S'mores around a smoky campfire.  Maybe you relish the scent of flowers, greenery and fresh-cut grass, or damp earth after a summer rain.
Sight
Summer offers so many beautiful things to see.  Gardens bursting with vibrant colors.  Puffy clouds against a blue sky.  Fireflies flickering in the night.  The dance of campfire flames slowly turning to glowing red embers.
Taste
Food is probably the first thing that comes to mind!  What are some of your favorite summertime foods?  Grilled corn on the cob?  Fresh strawberries over vanilla ice cream?  Most of us don't practice mindful eating very often, but this is a wonderful way to ground yourself in the present while nourishing your body.  Or, maybe you enjoy the subtler flavors of summer, like the simple taste of fresh air while you garden.
Touch
What do you love to touch in the summer?  Fresh soil and thick greenery?  Perhaps you love the feeling of a cold, dew-covered glass of lemonade in your hands, or the refreshing sensation of cool air wafting up from a fan or air conditioning vent.
Feel free to engage your senses in whatever way is most relaxing for you!  You may prefer to focus on them one at a time, or participate in activities that involve experiencing various senses at once.  There's no right or wrong method.  Mindfulness is about tuning into the present moment without judgment, after all!  But enjoying sensory activities that help you feel calm, focused, and grounded (rather than distracted) can be very helpful when it comes to coping with stress.
At Avenue Women's Center, our commitment to helping women maintain holistic health in the middle of an unexpected pregnancy informs all the services that we provide.  We've been offering free first-step pregnancy support with care, compassion, and excellence since 1981.  We'd love to be a source of encouragement and a provider of helpful, reliable information for you as well!
Learn more about Avenue Women's Center and schedule a visit today!  We have six limited medical clinics in Chicagoland, Illinois.
_______________
References:
The information provided here is general in nature.  It is not a substitute for a consultation with a medical professional. Before any medical procedure, it is imperative that you discuss your personal medical history, risks, and concerns with your doctor. If you have questions during or after a procedure, your doctor should be immediately contacted. Avenue Women's Center is not an emergency center.  If you are experiencing severe symptoms, such as bleeding and/or pain, seek immediate medical attention.  Contact your physician, go to an emergency room, or call 911.