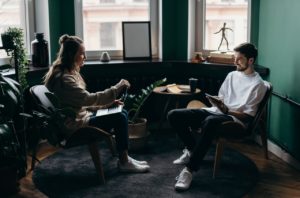 Some girls feel lucky to have a steady friendship with someone of the opposite sex. Without romance being involved, it can be nice to have a guy friend who makes you laugh, is up for late-night viewings of your favorite movies, and is your only rival in Game of Thrones trivia. While he's a great person, he's never been your boyfriend, and despite teasing from other people, it's possible you're uncertain if your future involves dating each other. There may be an attraction that led to one or more moments of sexual intimacy between you two that seemed to make more sense than going through the drama of trying to be a couple. Your relationship as it currently is appears to make sense, but what effect can a positive pregnancy test have on friends who are not ready to be parents?
Are you worried about how an unexpected pregnancy may change the relationship you have with your friend? With six locations in the Chicagoland area, Avenue Women's Center has been helping women navigate their unexpected pregnancy decisions since 1981. Our pregnancy consultants walk you through your options of abortion, adoption, and parenting, helping your sort through this new development. Our private consultations are designed to ensure you have access to reliable information, and our limited medical services can help you see which pregnancy decisions are still available to you.
Contact us to set up your free appointment today!
We're Just Friends:  Talking It Out
If you've confirmed your positive test results, one of your next steps is to share the news. Does your friend know about the pregnancy? If not, then try finding a quiet place free from distractions to have an intentional conversation. As someone who may have known you for some time, he may have already noticed something is bothering you, and it's possible he's anticipated what you're about to tell him is something big. He may be shocked, but letting him in on this development instead of choosing not to tell him may prevent hurt feelings in the future.
After talking, maybe you express concerns about the future (or lack of future) of your relationship. Would you like to continue the pregnancy and possibly co-parent?  If you are considering abortion, are you both on the same page?  What about forming an adoption plan? Do you both agree to move forward in a mutual decision? And what does that look like for your relationship in the future?
Aside from sexual intercourse, you and your friend have a non-romantic connection and it's normal to not want that to change.  Are you fearful that one unexpected pregnancy decision may impact your friendship more than another?  Are you concerned about pursuing the next steps alone? An unexpected pregnancy can amplify distant worries about the future, and concerns about the pregnancy, as well as your friendship, may have left you wondering how to cope.
We're Just Friends:  Sifting Through Emotions
Pregnancy can be an emotionally vulnerable time, and a part of you may even be worried about how to respond when people assume, based on your condition, that your friend is your romantic partner. Adding to potential insecurities may be the demands you've heard can come with pregnancy, such as a need for financial support and requiring someone to drive you to doctor appointments. Since you and your friend aren't a couple, you may be wondering how you can ask this of your friend?
Try not to make assumptions about how your friend feels. Relationships often require communication, and even if you're not a couple, it's usually a good idea to keep talking to one another. To ensure you're on the same page, it may be of benefit to write out a list of things you both agree on. After working through these points, perhaps your list can include areas where you may disagree so you can start having a discussion.
Communication points to consider:
What are our unexpected pregnancy options, and are we leaning towards abortion, adoption, or parenting?
If abortion is our option, how should we prepare beforehand? Do we need to schedule an ultrasound exam to see which procedures are available based on gestational age? Is there a risk of miscarriage or ectopic pregnancy, something that would rule out the need for making an abortion appointment?
Should we gather what information we can about abortion alternatives? What resources are available if we want to learn more about parenting or adoption?
What happens if we decide to parent after all? Is there anyone we can talk to that could give advice about how to share responsibilities for the pregnancy?
The strain of making a big decision can put even the strongest of friendships to the test.  If for any reason you feel the circumstances are too stressful for you and your friend to handle on your own, consider consulting a professional counselor or a pregnancy consultant. It can be easy to think that this is something only people who are romantically involved would do, but this isn't necessarily the case.
Pregnancy has the potential to change the established relationship between any couple, and emotions in this scenario have a tendency to run high. Outside help can be beneficial in this case, as no matter your unexpected pregnancy decision, it's likely that you and your friend are looking to be able to continue supporting one another for years to come.
Do you and your friend need assistance making a decision about an unexpected pregnancy? Avenue's confidential care and resources are here to provide support, with our expert staff taking the time to meet with you and share accurate information about your options. Our limited ultrasound services will supply you with relevant information regarding your pregnancy, alerting you to potential risks that may impact your decision. We're here to listen and answer questions through our compassionate pregnancy consultants.
Reach out and begin talking with us today!  
The information provided here is general in nature.  It is not a substitute for a consultation with a medical professional. Before any medical procedure, it is imperative that you discuss your personal medical history, risks, and concerns with your doctor. If you have questions during or after a procedure, your doctor should be immediately contacted. Avenue Women's Center is not an emergency center.  If you are experiencing severe symptoms, such as bleeding and/or pain, seek immediate medical attention.  Contact your physician, go to an emergency room, or call 911.