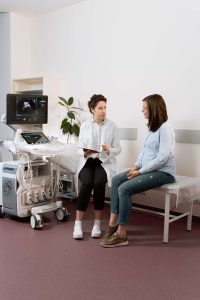 Before making any medical decision, it's important to know the facts about potential side effects and risks.
Abortion, like every other medical procedure, comes with its own set of potential risks. Before getting an abortion, you deserve to know the risks involved so you can make an informed, empowered choice.
Risks of Surgical Abortion
There are different types of surgical abortion procedures. The exact procedure is determined by how far along you are.
The Mayo Clinic lists the following as potential risks of surgical abortion:

Perforation of the uterus

Damage to the cervix

Heavy bleeding

Cramping

Scar tissue on the uterine wall

Infection
Some of these risks may lead to other complications that could impact your reproductive system. It's important to weigh these risks before making the decision to get an abortion.
Risks of the Abortion Pill
If you are 10 weeks or less into your pregnancy, you may be eligible for the abortion pill (also called medical or chemical abortion).
This abortion method utilizes two different drugs to end and then expel the pregnancy. They are very powerful drugs and come with their own set of risks. 
The Mayo Clinic lists the following risks associated with the abortion pill:

Incomplete abortion (may need to be followed by surgical abortion)

An ongoing unwanted pregnancy (if the procedure doesn't work)

Heavy/prolonged bleeding

Fever

Digestive system discomfort

Infection
While the abortion pill method is not invasive in the same way a surgical abortion is, you can see there are still risks to consider. 
Before Your Abortion
Before an abortion, it's important to verify and confirm your pregnancy so you know exactly how far along you are, and whether you're eligible for an abortion.
An ultrasound will reveal the following:
Where your pregnancy is located

How far along you are

If your pregnancy is viable
If your pregnancy is located outside the uterus, it can be life-threatening to you. These types of pregnancies, called ectopic pregnancies, are also nonviable and require a different type of procedure to ensure your safety.
How far along you are in the pregnancy will determine what type of abortion you can consider. The abortion pill method is only FDA-approved for women through the first 10 weeks of pregnancy.
Finally, you'll need to know whether or not your pregnancy is viable, or if you have naturally miscarried. Around 10 to 20% of pregnancies end in early miscarriage.
Schedule an Appointment
At Avenue Women's Center, we offer free pregnancy confirmation with a pregnancy test and limited medical ultrasound.
Gathering information on the condition of your pregnancy and the various risks of abortion is a large part of your decision-making process, and we can help equip you with the information you need to make an empowered choice.
Contact us to schedule an appointment right away! 
Reviewed by Patricia Kuenzi, APN-CNP, MSN, ANP, PNP.
The information provided here is general in nature.  It is not a substitute for a consultation with a medical professional. Before any medical procedure, it is imperative that you discuss your personal medical history, risks, and concerns with your doctor. If you have questions during or after a procedure, your doctor should be immediately contacted. Avenue Women's Center is not an emergency center.  If you are experiencing severe symptoms, such as bleeding and/or pain, seek immediate medical attention.  Contact your physician, go to an emergency room, or call 911.