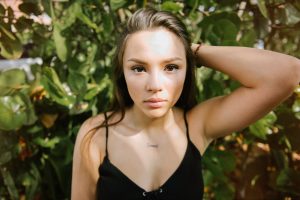 A blood and urine pregnancy test can both detect early pregnancy, but they use different means of detection: a blood test uses a blood sample taken at a clinic, while a urine test uses your urine and can be done at home.
If you think you may be pregnant, you may have early pregnancy symptoms. However, the only way to know for sure if you're pregnant is to take a pregnancy test. Read on to learn more about how a pregnancy test works and which type of test to take.

Or, if you want to speak to someone in person about your potential pregnancy options, contact Avenue Women's Center to be connected to one of our caring team members.
How Does a Pregnancy Test Work?
When you're pregnant, your body produces a special hormone called hCG (human chorionic gonadotropin). This hormone is only produced during pregnancy, and it's present in your body at the moment of conception (when the sperm meets the egg). 
Both blood and urine pregnancy tests work by detecting hCG in your body. If hCG is present at high enough levels, you will receive a positive result.
Timing is important when taking a pregnancy test. If you wait until the first day of your missed menstrual period, most at-home tests claim to be 99% accurate. However, if you take the test too early, you risk receiving a false negative. This could mean that your hCG levels are too low to detect a pregnancy, even if you are pregnant.
Which Type of Test Should I Take?
A blood pregnancy test can detect pregnancy earlier than a urine test, but it's more invasive. You must go to a clinic for a blood pregnancy test, and a blood sample must be drawn.
An at-home pregnancy test relies on urine to detect pregnancy. These tests are less invasive, cheaper, and widely available.
Next Steps
If you think you may be pregnant, taking a pregnancy test is the first step to confirming your pregnancy. At Avenue Women's Center, we offer free, medical-grade pregnancy tests. 
If you've already received a positive result on an at-home pregnancy test and qualify, we also offer free, limited medical ultrasounds—which are the second step to confirming your pregnancy.
Contact us today to schedule an appointment with one of our caring team members and talk about our services. You're not alone in this. We're here for you.
Reviewed by Patricia Kuenzi, APN-CNP, MSN, ANP, PNP.
The information provided here is general in nature.  It is not a substitute for a consultation with a medical professional. Before any medical procedure, it is imperative that you discuss your personal medical history, risks, and concerns with your doctor. If you have questions during or after a procedure, your doctor should be immediately contacted. Avenue Women's Center is not an emergency center.  If you are experiencing severe symptoms, such as bleeding and/or pain, seek immediate medical attention.  Contact your physician, go to an emergency room, or call 911.