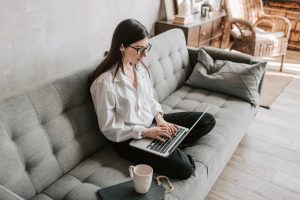 So many things could have led you to Illinois. Maybe you're visiting family, on vacation, or, perhaps you came here for a very specific reason. You may have heard that Illinois doesn't have many abortion restrictions. Maybe you're coming from your own state which has a lot of laws surrounding abortion and you're wondering, "where can I get an abortion if I'm coming from another state?"
Searching for answers to your unexpected pregnancy can be confusing and stressful. You may already be grappling with a lot of challenging emotions and thoughts, but going to another state for answers is even more difficult. If you're looking into having an abortion, Avenue Women's Center is a great first step. Our six Chicagoland centers offer the services and information you need, all at no cost.
Reach out to talk with a consultant today!
Looking for Abortion Answers in Illinois
Right now, as different states grapple with changing abortion laws it can be difficult to find out where you can receive abortion services. Some clinics have reported longer wait times and difficulty in scheduling patients quickly. This may be an obstacle you face as you look into abortion.
Same-Day Services at Avenue Women's Center
Having to wait around for services day after day can be distressing. This is why, at Avenue, we pride ourselves on offering women services as soon as we possibly can. With just a text or phone call ahead, most of our services are available same-day.
What We Offer You at Avenue
At Avenue, all of our services are always free and confidential. You can confirm your pregnancy with a free medical-grade pregnancy test which is accurate just ten days after conception. You can receive a free ultrasound exam to determine the age and viability of your pregnancy (its likelihood of continuing), as well as what kind of abortion procedure you'd qualify for. Throughout your time with us, you'll be with one of our compassionate pregnancy consultants who can listen to your concerns and answer your questions about your options.
If you're looking into abortion from another state, Avenue is here to help. We feel that women should be empowered by information and the resources we can offer. If you're interested in our same-day services or a virtual consultation, we would love to hear from you. Receive information about your pregnancy and your options so you can make an informed decision. 
Schedule your appointment with us today!
The information provided here is general in nature.  It is not a substitute for a consultation with a medical professional. Before any medical procedure, it is imperative that you discuss your personal medical history, risks, and concerns with your doctor. If you have questions during or after a procedure, your doctor should be immediately contacted. Avenue Women's Center is not an emergency center.  If you are experiencing severe symptoms, such as bleeding and/or pain, seek immediate medical attention.  Contact your physician, go to an emergency room, or call 911.