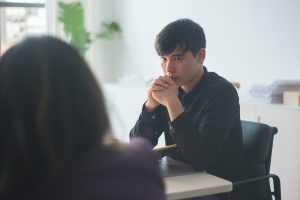 Most people going through an unexpected pregnancy face significant stress and anxiety.  However, some experience a complex blend of challenging and positive emotions.  Maybe there's a part of you that's okay with being pregnant.  Maybe you're considering if parenting could be your best option, and even beginning to feel a little excited.  But what if your boyfriend isn't on the same page?  Perhaps your partner is reluctant to support a pregnancy that you've already accepted.  If so, you and he may be having a really difficult time navigating these circumstances and figuring out your next steps.  You may be wondering where to turn for support.
Disagreeing with a partner can be tough, especially in a high-stakes situation like an unexpected pregnancy.  Avenue Women's Center is here for you!  We're a first-step pregnancy clinic that's been serving women in DuPage County, Illinois and beyond since 1981.  Our free, confidential services include medical-grade pregnancy tests, limited medical ultrasounds, pregnancy consultations, and more!
Reach out to us today to schedule an appointment at one of our six limited medical clinics!
Putting Yourself in His Shoes
Your boyfriend is the only person who can express why he feels the way he feels.  Having a calm, respectful conversation is going to be key if you're hoping to help him understand your perspective.  However, before you take that step, it may be beneficial to consider these possibilities.
Maybe he's worried that this pregnancy could change his plans for the future. This may actually be the case, especially if you choose to parent.  You'd probably agree- it can be scary to watch your life change so significantly and so quickly.
Maybe he's nervous about stepping into a parenting role. If parenting is the path you decide on, and your partner isn't already a dad, this is going to be totally new territory for him!  Again, it's hard to face the unfamiliar.  He may struggle with some self-doubt and need encouragement along the way.
Maybe he's concerned about how other people will see this pregnancy. Your boyfriend might worry about how his loved ones will respond, not only to your pregnancy news, but also to whichever pregnancy option you move forward with.  Maybe he fears that his family will be disappointed with him.
All of these possible explanations include fear, but your boyfriend could be experiencing a wide range of complex emotions.  Chances are, similar thoughts have crossed your mind.  You may still be processing through some of them, and that's okay!
Engaging in a Respectful Conversation
Once you've had a moment to consider how he might be feeling, it's time to have an open and honest (but kind) conversation with your partner.  Don't make any assumptions about where he's coming from or what emotions he's wrestling with.  Invite him to speak from the heart.  It may be helpful to choose a calm, distraction-free space and a time when you're probably not going to be interrupted.  If you show your boyfriend empathy, hopefully, he'll show you empathy in return and try to see this situation through your eyes.
You've Got This!
At the end of the day, you have autonomy and responsibility over your own pregnancy decision.  It can be easy to feel pressure from others, whether they mean to influence your choices or not.  Hold onto the values and beliefs that are important to you!  Allow these to inform your next steps.  Even if your boyfriend or others continue to be unsupportive, you have what it takes to make your own best pregnancy decision.
Whether you have a strong base of support, or feel completely alone, our compassionate staff at Avenue Women's Center would love to be a part of your support system.  We're even available to mediate a conversation with your boyfriend if you'd like.  Our top priority is meeting your needs.  Avenue is all about empowering women to take their next best steps through reliable pregnancy information, practical resources, and caring support.
Speak with a team member at Avenue to learn more about our services!
The information provided here is general in nature.  It is not a substitute for a consultation with a medical professional. Before any medical procedure, it is imperative that you discuss your personal medical history, risks, and concerns with your doctor. If you have questions during or after a procedure, your doctor should be immediately contacted. Avenue Women's Center is not an emergency center.  If you are experiencing severe symptoms, such as bleeding and/or pain, seek immediate medical attention.  Contact your physician, go to an emergency room, or call 911.