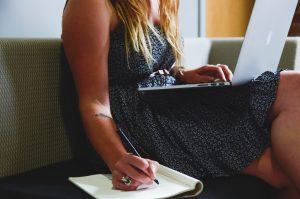 An unexpected pregnancy can come as a surprise if you're in the middle of completing your high school career or pursuing higher education. The news that you're pregnant may have arrived at an overwhelming time. Right now, you may be trying to balance school work and exams or planning for the next steps in your future. An unexpected pregnancy can cause you to wrestle with all sorts of thoughts, emotions, and questions. Perhaps your main concern is how pregnancy will interfere with your education. Deciding which path to take can seem stressful, but where can you go for help?
Are you wondering how an unexpected pregnancy might interrupt your goals for the future? Avenue Women's Center understands each woman's situation is unique. We provide assistance through a variety of unexpected pregnancy situations. Our six Chicagoland centers are equipped to offer reliable information and support within a nonjudgmental environment. During a private consultation appointment, our expert staff will walk you through your three options of abortion, adoption, and parenting. We'll take time to answer your questions to help you build a clear plan for your future.
Contact us today to begin talking with our expert staff!
Locating Support After Learning You're Pregnant
You may be feeling isolated. Especially if you've discovered that you're pregnant while you're still in school. You may be hesitant to tell someone about the situation or have a desire to handle this on your own. But whether you're in high school or in college, it can be important to have a solid system of support behind you so you can have someone to lean on if you're feeling stressed or anxious.
Are you concerned about how to communicate your news to your partner and your family members? This can be a challenge, but help is available. Your school's counselors, a therapist, a healthcare provider, or a pregnancy consultant can help you prepare for a conversation with your loved ones. They can also facilitate a discussion between you and the people you may want to include in your pregnancy plan.
Sharing the news with others can seem scary. But attempting to navigate this new circumstance alone can be challenging. When deciding what path may be right for you, it can be helpful to have an encouraging community behind you to be at your side as you sort through complex emotions.
Making a Pregnancy Decision
Choosing between one of your three pregnancy options can take time. And it often involves careful research. The answer about what you should do is not always obvious. So, you may want to give yourself a moment to explore each of your choices. Since there's typically a lot of information out there, it can be a good idea to connect with a professional resource to ensure what you learn is accurate.
Questions to Consider with an unexpected pregnancy
You may have a lot of questions and taking time to find answers before finalizing a decision can be helpful. Some of these questions may include:
Would I be able to work with my school in order to receive accommodations and time-off?
Who can I communicate with at school so I can fully understand how I may be protected under Title IX, and how I can report potential instances of pregnancy discrimination?
What are the costs associated with each of my decisions of abortion, adoption, and parenting?
How do I feel about the pregnancy?
Who can I rely on to be a part of my supportive network, whether that be through personal or professional connections?
After confirming the pregnancy, have I been screened for any health risks that may play a part in my decision?
Understanding your options and choosing the right path for yourself may take time. If you're concerned a pregnancy could interfere with your education, it can be difficult to analyze your needs and think about what decision may be best for you. Before you commit to one path, gather information. Seek out trusted resources for support. By reaching out for guidance, you can process what may lay ahead and consider how you can best apply your choice to your individual circumstances.
Schedule an Appointment
Are you worried about how to continue with your education after learning that you're pregnant? Avenue Women's Center is here to partner with you, providing private consultations and accurate information. Our centers offer free, limited medical services and referrals to ensure you have access to necessary resources, and our caring staff will communicate with you about your options. We understand the need for answers at this time, and that's why we'll be sure to listen to your concerns as you consider what may be the right choice for you.
Reach out today for confidential support at no cost!
The information provided here is general in nature.  It is not a substitute for a consultation with a medical professional. Before any medical procedure, it is imperative that you discuss your personal medical history, risks, and concerns with your doctor. If you have questions during or after a procedure, your doctor should be immediately contacted. Avenue Women's Center is not an emergency center.  If you are experiencing severe symptoms, such as bleeding and/or pain, seek immediate medical attention.  Contact your physician, go to an emergency room, or call 911.