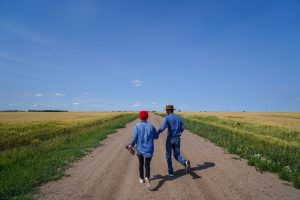 Do you find yourself wondering, "Would my partner be upset to hear I'm considering abortion?" during quiet moments to yourself?  Or, perhaps you consider asking family members and friends how they think he'd react if he knew?  The only real way to answer this question is to have a conversation with your partner.   But if this particular matter is pressing on your mind, there's probably a reason why.  Maybe you believe he'd be open to parenting.  Or, an abortion would seemingly conflict with his values and beliefs.  Chances are, now's a good time to further consider your partner's role during this pregnancy and beyond.
Our caring staff at Avenue Women's Center is available to navigate this challenging road by your side.  Most women have a difficult time processing an unexpected pregnancy and sorting through pregnancy options, let alone sharing their thoughts and feelings with key people.  Our pregnancy consultants at Avenue get that.  It's our goal to help you learn about your pregnancy, and all the possibilities and resources that lay before you, so you can approach your partner (or someone else you trust) feeling informed and prepared.
Schedule an appointment today!  Avenue offers first-step pregnancy services at six limited medical clinics in Darien, Elmhurst, Glen Ellyn / Lombard, Naperville, West Chicago, and Wood Dale, Illinois!
A Challenging Conversation That May Be Worth Having
If you're coping with an unexpected pregnancy today, a lot of important decisions are in your hands, like where to turn for support, what to do next, which option(s) to explore (and choose), and who to include on your journey.  So, what if you're thinking about sharing your intentions for this pregnancy with your partner?  There's no one-size-fits-all approach.  But many women find that clear, honest communication works best when the relationship feels safe and committed.  Also, consider if he may find out about an abortion decision that's already been carried out later on.  Generally speaking, being transparent before significant choices are made leads to healthier relationship outcomes, even if it means having a difficult conversation in the here and now.
Including Your Partner in Your Pregnancy Decision
If your partner is supportive of you (whether or not he supports your views), it would be logical to consider his perspective and the part you're hoping he'll play during this pregnancy and beyond.  Maybe you've decided to tell him you're considering abortion, but you're afraid he'll be upset.  You want to approach this subject with wisdom and care.  Here are a few considerations to be mindful of.
It may be an important element of your decision-making process to accept that your partner's (and others') reactions are beyond your control. His feelings are what they are, and your feelings are what they are.  It's possible to have a constructive conversation and communicate respect whether or not you agree.  That's an important (although challenging!) skill that can strengthen a relationship no matter the specific point of tension.
If you put yourself in your partner's shoes, you'll probably realize that he has a lot to process, just like you do. Give him time and space to consider what you have to say.  Offer him opportunities to express himself, but set some boundaries as needed.  He needs to respect you, just as you need to respect him.
Remember that your partner's immediate response doesn't have to define the rest of your experience navigating this together. Neither do his feelings in the moment, nor yours.  It may take some time for both of you to process these circumstances and everything that follows.  That's okay.  Chances are, you have some time to continue the conversation and seek any information you may need before making a pregnancy decision.
Your partner's opinion about this pregnancy decision may matter a lot to you. You may want him to play a key role throughout your pregnancy journey.  In most cases, that's good and healthy.  But remember that the responsibility of a pregnancy decision falls to you.  You both will be affected by the outcome in different ways.
This blog has only scratched the surface of what a conversation with your partner about pregnancy options may look like.  Are you worried about your partner's response, or even a different aspect of this pregnancy?  Avenue Women's Center is here for you.  It's our role to offer emotional support and free first-step pregnancy services to help you find clarity.
Reach out today to learn more!
The information provided here is general in nature.  It is not a substitute for a consultation with a medical professional. Before any medical procedure, it is imperative that you discuss your personal medical history, risks, and concerns with your doctor. If you have questions during or after a procedure, your doctor should be immediately contacted. Avenue Women's Center is not an emergency center.  If you are experiencing severe symptoms, such as bleeding and/or pain, seek immediate medical attention.  Contact your physician, go to an emergency room, or call 911.