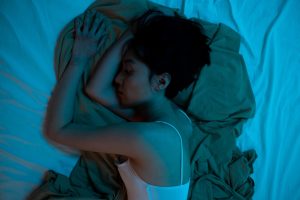 Have you ever felt stretched, or even beaten, by the circumstances surrounding you?  Maybe your days are consumed by work, school, or family responsibilities.  Perhaps you're facing health challenges, financial hardship, relationship troubles, job insecurity, legal problems, or a crushing combination of stressors like these.
There's no shortage of reasons why life can feel overwhelming sometimes.  That's the nature of the world we live in.  But when struggles pile on top of each other, and we're not equipped to manage the weight, it can feel like the entire world is imploding.  Maybe you're coping with an unexpected pregnancy today on top of other difficulties.  Maybe you're considering abortion because it seems like the easiest way to break free from all the pressure you're under.  Are you exhausted by the burdens of life today?  If so, this blog is for you.
You might be struggling to keep your head above water at this very moment.  Or, perhaps you've gone through tough times in your past and don't want to bring new life into the world.  Avenue Women's Center is here for you no matter where you find yourself.  It's our mission to offer persons experiencing an unexpected pregnancy the practical and emotional support they need to carry on with strength.
Explore our early pregnancy services! We provide free, confidential care to all.
Caring for Yourself is Vital
Emotional pain is almost always woven into the chaotic fabric of difficult circumstances.  Are you wrestling with anxiety, grief, or bitterness today?  Perhaps mental health challenges are a part of your life journey, or you've simply been through some emotionally hard seasons.  Let's set this matter of your pregnancy decision aside for just a moment.  It's critical to prioritize your health (physical, mental, emotional, etc.)  and ensure you're getting the support you need.  Seriously consider processing what you're going through with a trusted confidante or mental health professional.  The persons we serve at Avenue are often facing complex situations, and our pregnancy consultants are here to listen.  We can help you connect with other supportive resources in your area too.
Caring for yourself is key to handling all your life decisions, including this pregnancy choice, with greater confidence and fewer regrets.  But healing emotionally and developing healthy ways to cope are rarely quick, straightforward processes.  Give yourself time and show yourself grace.  Know that it's never too late to seek help.
Check out some of Avenue's other blogs that touch on this subject!
Maintaining Mental Health While Considering Abortion
8 Methods for Self-Care During Pregnancy
Considering Your Options
Are you considering abortion because this seems like the best way to resolve one of the many problems you're facing?  It's important to keep in mind that every pregnancy option (abortion, adoption, and parenting) comes with potential challenges.  Any of these possibilities may have emotional impacts lasting beyond your pregnancy.  This isn't said to discourage you, but to encourage you to explore all your available avenues.  Educating persons on their options and resources in a pressure-free environment is a vital part of our work at Avenue Women's Center.  Sometimes learning, processing, and asking questions can clarify which route is best.
Understanding Your Pregnancy
If you're leaning toward ending your pregnancy, getting an ultrasound may be an important step.  That's because a scan can offer information that may influence your approach, like:
How far along you are. Knowing this will help determine what kind of abortion(s) you're eligible for.
If you're likely to miscarry. About 1 in 5 or 6 pregnancies ends in miscarriage, and the probability of this increases as you age.
Where the pregnancy is located. If you're experiencing an ectopic pregnancy (a pregnancy located outside the uterus), your health is at risk, and you'll need to seek additional medical care right away.  Going through the normal process of getting an abortion would not resolve this.
The circumstances you're facing may feel overpowering.  But that doesn't have to stop you from pursuing your best outcome- for this pregnancy and other aspects of your life.  It's important to build a strong foundation of support, and use this as a decision-making launch pad.  Our compassionate team at Avenue would love to be a part of your support network by equipping you to make an informed, empowered pregnancy decision.
Schedule a visit today!  We provide virtual consultations and in-person appointments at our six limited medical clinics based in Chicagoland, Illinois.
If you are experiencing thoughts of suicide or self-harm, contact 911, a mental health professional, or the 988 Suicide and Crisis Lifeline (by dialing 988) right away.
The information provided here is general in nature.  It is not a substitute for a consultation with a medical professional. Before any medical procedure, it is imperative that you discuss your personal medical history, risks, and concerns with your doctor. If you have questions during or after a procedure, your doctor should be immediately contacted. Avenue Women's Center is not an emergency center.  If you are experiencing severe symptoms, such as bleeding and/or pain, seek immediate medical attention.  Contact your physician, go to an emergency room, or call 911.