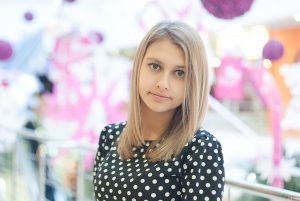 It's completely normal for women of all ages to feel uneasy approaching their parents with news of an unexpected pregnancy.  That may be especially true for someone who's already doubting her parents' opinions of her.  Maybe you're facing circumstances like these, and you're considering abortion so your family never finds out.  Perhaps your parents have preconceived ideas that you're irresponsible, and you think these ideas would be reinforced in their minds if they knew about the pregnancy.  You may want to prove them wrong.
Do you feel frustrated and misunderstood because your parents' negative views toward you are unfair?  It's also possible that you can see their perspectives to some extent.  Believing that your parents view you as "irresponsible" is bound to hurt, regardless.  Avenue Women's Center exists to support persons coping with all kinds of emotional pain triggered by an unexpected pregnancy.  We've been serving women, couples, and families in our Chicagoland community and beyond for over forty years.  We're here for you too!
Check out our free, confidential early pregnancy services!  These include lab-quality pregnancy tests, limited medical ultrasounds, options consultations, and more.
Your Parents' Views Don't Define You
Chances are, you care about your parents' opinions of you.  That's totally natural!  We all want our loved ones to recognize and affirm our good qualities (and forgive our imperfections), no matter how old we are or what our circumstances involve.  If your family members see you as "unreliable" or "immature," remember that their opinions don't define who you are, whether or not their observations have some validity.  You have inherent and priceless value regardless of your strengths and vulnerabilities.  But know that you can lean on your strengths and work on your vulnerabilities to cope with this pregnancy and achieve personal growth in your life!
Helpful Questions to Ask Yourself
Every person has to determine for herself if telling her parents (or anyone else) about an unexpected pregnancy is the right step for her.  Are you considering abortion because you're afraid that your parents or others would judge you if they knew about your pregnancy?  If so, consider asking yourself questions like these:
Which of these is better for my safety and well-being right now: Sharing my pregnancy news with my parents, or holding back?  If "holding back" is the answer, would it be in my best interest to tell someone else that I trust?
Are my parents the kind of people who would support me if they knew, even if they didn't agree with or support my past decisions or my leanings regarding this pregnancy? Even if they viewed some of my choices as irresponsible?
Is it possible that I'm misunderstanding my parents' opinions of me? If so, how could I potentially get some clarity on where they stand?
If my parents really do think I'm irresponsible, does this relationship dynamic have to last? Are there steps that I can take to demonstrate my sense of responsibility, and/or discover healing and growth?  What would these steps look like?
Are my fears about other peoples' perceptions holding me back from exploring what's potentially my best pregnancy outcome? If so, how can I view my future pregnancy decision with a clear, informed, empowered perspective?
Creating a Healthy Dialogue
Inviting someone caring and trustworthy to help process an unexpected pregnancy can be very valuable, even if that "someone" isn't a parent.  A positive dialogue can offer significant support and insight.  If you decide to talk with your parents about your pregnancy, you'll have an opportunity to clarify your true feelings and theirs.  Maybe your parents have their own emotions to process and insights to discover, which will help them meet you in this difficult space with compassion.  Your present situation may be an opportunity to show your parents that you're someone who owns her choices and explores resolutions with courage, resiliency, and maturity.  Positive qualities like these tend to shine the brightest under the hardest of circumstances.
Check out some of our blogs on the subject of sharing pregnancy news, if you're interested in exploring this possibility further!
Helpful Communication Tools When Sharing Pregnancy News
Should I Tell My Parent's I'm Pregnant?
"I Don't Know How to Tell My Parents About an Unexpected Pregnancy"
Your pregnancy decision matters a lot.  Each of your pregnancy options (abortion, adoption, and parenting) involves unique medical processes and risks.  Each comes with potential emotional challenges.  Because your choice holds weight, it's important to make your decision an informed one.  You can accomplish this by giving all your available options some thoughtful consideration and learning the possible implications before moving forward.  Avenue Women's Center exists to support you in this process by providing accurate information about your pregnancy, your options, and resources.
Reach out to Avenue today!  We're here to answer your questions with warmth and professionalism.
The information provided here is general in nature.  It is not a substitute for a consultation with a medical professional. Before any medical procedure, it is imperative that you discuss your personal medical history, risks, and concerns with your doctor. If you have questions during or after a procedure, your doctor should be immediately contacted. Avenue Women's Center is not an emergency center.  If you are experiencing severe symptoms, such as bleeding and/or pain, seek immediate medical attention.  Contact your physician, go to an emergency room, or call 911.